Luangpor Dhammajayo was born Chaiboon Suthipol on Saturday, the 22nd of April 1944, the first night of the waxing moon in the 6th month of the Lunar Calendar at 6 p.m.. He grew up in a small house located on the banks of the Chao Phraya River a sub-district of Ban Paeng, in the district of Promburi, within the Province of Singhburi. His father, Janyong Suthipol, worked as an engineer at the Industrial Factory Department for the Ministry of Industry, and his mother was Juree Suthipol.
This led to the recollection of a dream his mother once had that took place at Phichit Province, where they lived before moving to Singburi. While pregnant, she dreamt of a holy Buddha image of Pichit, called 'Luangpor Petch' that the people revered. He presented to her a beautiful child and said, "This boy is a very special child. Please take very good care of him. He will be a refuge for the people in the future." Later, she dreamt that she received a very beautiful Buddha image, and she cleaned and polished it until it was even shinier. While polishing the statue, it became a bright glow that radiated across the whole city, making it bright with boundless radiance.
Her dreams brought happiness to everyone in the family, especially her husband Janyong, who had the intention of supporting his first child to attain maximum progress and prosperity, so that he could be a role model to everyone.
The day Chaiyaboon was born, an auspicious event occurred. All of his relatives, who were angry and had never visited each other for a long time, were restored to family harmony by the birth of their first nephew.
The birth of baby boy was an auspicious event for harmony, like rain falling on dry and cracked ground, restoring it back to a smooth surface.
A Childhood Life Moving forward like the Current of Water
Since his father was a government employee who had to regularly relocate to different provinces, Chaiyaboon was raised by his mother and cousins. Because he had to move on a regular basis, his father, concerned about the boy's education and future, registered his son in the first grade of Talapatsuksa School, a boarding school at Sao-Shingsha in Bangkok.
This was a good fortune for this young student. The owner of the boarding school that he was attending, who was of royal blood, had no children of his own. He loved they boy very much and asked the boy's father if he could adopt him to be his heir. Since Chaiyaboon was the only and beloved son of the family, his father declined the offer. However, the owner still loved him and would always bring him to the Sra Pratum Palace. This allowed him the opportunity to learn the customs of royalty from that time forward. It also gave him the chance to join the school owner in making merit with monks regularly. This was the start of the boy's interest in Dhamma.
In 1950, his father received an order to relocate to Phetchaburi. Chaiyaboon had to be separated from the school owner since he was transferring to Aroonpradit School for the fourth grade. After living with his father for a little over a year, he moved to Sarasit Pithayalai School where a famous school stood in Banpong District, Rajchaburi Province. His father allowed him to stay with a kindhearted and generous teacher, Samarn Sang-Aroon, until he completed the ninth grade.
When he was thirteen, Chaiyaboon passed the competitive entrance examination to enroll in the tenth grade at Suankularb Wittayalai School in Bangkok. He was one of one hundred fifty students who passed the test from a pool of five hundred candidates. Since he was on his own most of the time, he learned how to economize and save. Therefore, this experience trained him to be vigorous, confident and responsible in this he differed from other boys who grew up in wealthy families.
His childhood experiences prepared him for his important future tasks, and after long hard work he finally reached his dream.
His Big Childhood Dreams
Chaiboon's Utmost Dedication to Attaining Knowledge of the World and the Start of Attaining Knowledge of Buddhism.
Young Chaiboon was eager when it came to acquiring knowledge, and was happy spending his free time gaining more knowledge at bookstands or at the markets where a variety of books could be found. He liked to spend time in and around Khlong Lod and Sanam Luang, unlike other teenagers his age who only wanted to have fun all day long. He could always be found wearing a t-shirt with his favourite shorts, reading books from various bookstands. If he found books on Dhamma, he would find himself reading them over and over again. The more he read, the more he refined his thoughts so that he could better understand the suffering of the world. Even biographies of important people were read repeatedly, so that he was able to accurately memorize all their names and contributions. These prompted questions in his mind: Why were we born? What is the goal of life? These questions were too advanced for someone his age. He wrote down his thoughts in a journal at the age of thirteen:
"If I were to pursue secular interests, I would want to attain the highest objective. If I were to pursue religious interests, I would like to reach the utmost Dhamma and disseminate Buddhism to the whole world."
Who could have imagined that a young man's dream was going to come true? Because, in the present day, this person has become a revered Abbot who has brought radiance from the sun of peace through meditation, and shone it across the world to peace-lovers everywhere.

The Search for the Answers of Life
While he was attending Suankularb Wittayalai School, he had a chance to listen to Dhamma lectures, from many scholars, and that inspired him and his friends to establish a Buddhist Youth Society. Wherever there were Dhamma lectures, as far away as Lan Asoke at Mahathat Temple or other places, he always attended.
As he became a teenager, his appetite to learn more Dhamma increased. Whenever he had free time, he would always steal away to tranquil places to contemplate the questions that lingered in his mind. Why were we born? Where do we go after we die? Do merit and demerit exist? He read and studied Buddhist texts that said: Knowing only the Dhamma of the Lord Buddha is not enough. It is like having only one eye. One will be only an expert in the area of Dhamma knowledge, but whatever benefits may be gained by that is never known because it is never put into practise. Then, more questions will remain.
He regularly gazed at the vast sky as if he was trying to find the answers to the questions that resided deep in his mind. He differed from other people of his age who were only interested in having fun, thoughts of the future and wealth, having a life partner, or other distractions. But in the determined eyes of young boy, behind those dark glasses, he was resolute and continued his pursuit of finding answers. He continuously researched various books, and sought after the knowledge of many well known scholars.
Sparks of Answers
Then one day, he came across a book titled, "Dhammakaya." This book was written in the format of a sermon by The Great Master Phramongkolthepmuni (Sodh Candasaro) or Luang Pu Wat Paknam. There was one particular quote: "If one wants to follow in the right path of Buddhism, one has to practise until one gains complete comprehension and understanding."
The word "Dhammakaya" appealed to him. The Great Master said, "Dhammakaya is the Buddha." He even referenced a Pali term from the Tripitika: "Dhammakayo – (ahamฺ itipi," (Pali) to confirm that the Buddha is the Dhammakaya. At the end of this book, it showed a confirmation that Wat Paknam was able to teach until attaining complete comprehension and understanding." This statement delighted him because he knew he had found the right path.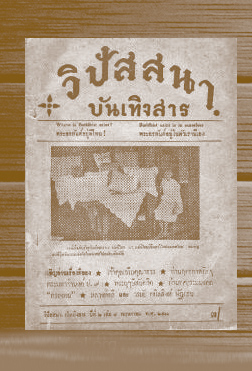 Later, he read an article in "Vipassana Bantuengsarn" that spoke about the advances in meditation of Khun Mae Acariya Chandra, an expert in the Dhammakaya Meditation. She was a nun who was a disciple of Phramongkolthepmuni (Sodh Candasaro), Luang Pu Wat Paknam. This propelled Chaiboon to want to learn meditation at the temple. From that point on, he planned to go to Wat Paknam to study the Dhammakaya Meditation.
The Search for a Teacher
In 1963, at the age of nineteen, he was preparing to take the entrance examination for university-level studies. The young man made a decision to go to Wat Paknam Bhasicharoen to meet Khun Mae Acariya Chandra to study the Dhammakaya Meditation. When he arrived at the temple, he asked different people, "Does anyone know Khun Mae Acariya Chandra?" but no one knew. They told him: "There is no Khun Mae Acariya Chandra. There is only a Teacher Chandra." This made him think that these were two different persons. Since he couldn't find her, he concentrated his efforts on the entrance exam. He passed the exam and was accepted at Kasetsart University.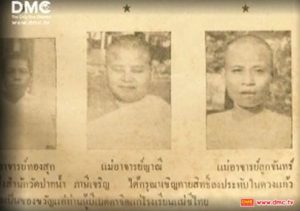 In the first semester, he was very focused in his studies. Later, at the end of the first semester, his thoughts of meeting Khun Mae Acariya Chandra resurfaced. So, he decided to go back to Wat Paknam again in October 1963, but was still unsuccessful in locating her. Later, someone suggested that, if he wanted to learn how to meditate seriously, he should learn from a senior monk who would be glad to teach the Dhammakaya Meditation Technique. After practising meditation for a period of time, he discovered, from a fellow meditator of the same age, that Khun Mae Acariya Chandra was Teacher Chandra. So, he was taken to meet Teacher Chandra. Finally, they both had the opportunity to meet one another.


Discovering a Teacher who showed Him the Way to Peace
When he first met Khun Yay (Khun Mae Acariya Chandra), she was fifty-three years old. She looked like an ordinary nun, who was very thin, but whose eyes were brilliant and bright; a sign of someone with extreme knowledge. She was firm, strong, powerful, and brimming with kindness. Although she was not educated or literate, she could provide clear profound answers to deep Dhamma questions. Her profound answers brightened people's minds, made them stop and think and removed them from the strong influences of the ways of the world.
On their first meeting, the young man believed that he had found the teacher who he had been searching for, for such a long time. Therefore, he requested, with confidence in her, to be her student. Later, Khun Yay said to him, "You are the one whose birth Luangpu Wat Paknam asked me to request during the World War period." This statement was unclear to him, but the words that Khun Yay said were accurate since he was born during World War II.
From that point on, Chaiboon felt confident that he had chosen the right teacher because the knowledge he received from Khun Yay enabled him to address and settle everything he once questioned. This also inspired him to spread the peace found in Buddhism, to the whole world. This helped make the big dream that he had, when he was a child, come to fruition.
Any doubts or questions that the young man had in his mind, he would ask Khun Yay and she would be able to answer everything, above and beyond his expectations, which raised his spirits even higher. This encouraged him to spread Buddhist teachings and bring peace and harmony to the whole world.
Understanding Life's Goal
On the first day of meditation practice with Khun Yay, the first question the new student asked was: "Khun Yay, does heaven and hell exist?" Khun Yay simply answered, "Yes, they both exist. Heaven and hell are real. I've been there when I went to help my father. My father went to hell because he drank alcohol daily and would get drunk. I requested the help of the Dhammakaya to help bring my father into heaven. Would you like to go there? I will teach you and we can go there together."
It was a clear and direct answer that was completely different from any answers he had heard before. This indicated the confidence she had in her experience, and what she knew and saw on her own. This is because Khun Yay had meditated in the Meditation Workshop with other nuns and monks when the Great Master, Luang Pu Wat Paknam, was still alive. These monks and nuns were selected by Luang Pu Wat Paknam because they had remarkable concentration in meditation. At that time, Khun Yay meditated with determination for six hours during the day and six hours at night. She had such superb results from her meditation experiences that Luang Pu Wat Paknam extolled her among other meditators with: "Daughter Chandra is the best. She is second to none."
After meditating with Khun Yay for only a short amount of time, young student Chaiboon discovered the answers to the questions he had sought for so long: "Why were we born, and what is the true goal of life?" The results from meditation provided the answers that, "we were born to pursue perfections, and Nibbana is the highest goal of everyone's life."
Perseverance in Meditation Practice until True Peace is Obtained
In order to fully grasp and understand the answers, he had to seriously dedicate his life to the study of Dhamma. His daily life revolved completely around meditation. Everyday at 6 a.m., he would make his daily trek from Kasetsart University to Wat Paknam, which required him to take three different buses. Whether he sat or stood in the bus, he would always close his eyes and meditate until he reached Wat Paknam at around 8 a.m. He would then go straight to see Khun Yay in order to continue the next lesson on meditation practice, until 8 p.m. He returned to Kasetsart University at around 10 p.m.
Even during the early hours of the morning, at 3 a.m. when most of his friends slept, Chaiboon would wake up to meditate because of favourable silence, and his body had just enough rest. He would meditate in an area where none of his friends would see him. But, sometimes his friends would wake up in the middle of the night to use the restroom. When they saw him covered under a blanket, they would be startled. As they knew that he was meditating, they did not make fun of him or tell anyone. Once his friends became more familiar with this, he started inviting the ones he was closest to, to go meditate with Khun Yay at the Wat Paknam. Later, as his group of friends grew larger, his friends who were seniors and juniors followed him to the temple.
When it came to studying at the university, an educated graduate tends to believe that well rounded study needs to combine both worldly knowledge and Dhamma knowledge. Worldly knowledge is necessary to help one earn a living, and Dhamma knowledge is to instruct the mind to be virtuous and to ease any doubt about the secrets of life such as, "Where do we go after we die? Do heaven and hell exist? How do we prove it?" This profound knowledge was not taught at any university, but it was derived from the Lord Buddha's wisdom. This caused Chaiyaboon to lean towards the study of Dhamma more than studies in the classroom. Even on the day he had an examination in the morning, he would take the bus to go to meditate in the afternoon. He did this regularly until he graduated.
With a determined attitude towards meditation, along with his respect for the teachings of his teacher, young Chaiboon excelled in his progression when it came to meditation. This pleased Khun Yay greatly. Even people, who practised meditation with Khun Yay before, acknowledged his proficiency. Hence, Khun Yay was comfortable in allowing him to lead the meditation for patrons and supporters.
Once he meditated deeply and attained inner peace, his confidence in the knowledge found in Buddhism continued to increase. He saw that the fruits of meditation could release human beings from their suffering, and had indisputably answered the many unresolved questions he had in his mind.

Moving Towards the Saffron Robe
Later, young Chaiboon came to a clear realisation that the knowledge of the world could not truly keep humankind from suffering, or be able to attain true happiness; only the wisdom derived from meditation could help. He then decided to ask Khun Yay for permission to become ordained as a monk. Khun Yay not only refused his request for the ordination, but also urged him to finish his degree first. She reasoned that, "You have to be knowledgeable in the world, and be a scholar in Dhamma, too, so that you will be beneficial to Buddhism once you have ordained. You can't be dependent only on Buddhism." He respectfully followed her recommendation.
Through his recollection of Khun Yay's benevolence for the kindness she bestowed with the teachings of Dhamma, along with an act to demonstrate his gratitude, on Khun Yay's birthday in 1968, Chaiboon wanted to present a gift to her by making a vow of truthfulness and to remain celibate for the remainder of his life. This was considered the most precious gift because, for the person who wishes to advance consistently in his meditation, it is essential to have the highest degree of purity, pertaining to chastity, and remove all the burdens of the life of a householder. Khun Yay was very pleased and happy with his great determination. She felt that she hadn't wasted her efforts in devoting herself to teaching and mentoring him.
In the April of 1969, Chaiboon graduated with a Bachelor's degree, with a major in Agricultural Economics. After receiving his degree, he immediately informed his father of his desire to ordain for life in the Buddhist monkhood.
It took a considerable amount of time before his father accepted and rejoiced in his son's desire to ordain, since he kept his promise of completing his college education before becoming ordained. His mother also rejoiced in his ordination with great joy and elation the moment he asked for her permission to ordain, so that he could extend the livelihood of Buddhism.
27 August 1969, a full moon day on the ninth month of the lunar calendar, was an auspicious day as Mr. Chaiboon Suthipol donned the saffron robe and became a monk, as he had wished, at the chapel of Wat Paknam Bhasicharoen. The Most Venerable Phrathepwarawaetee (currently, Somdejphramaharatchamangkalajahn, Abbot of Wat Paknam Bhasicharoen, Thailand), was his preceptor, Venerable Phrakrupipatdhammakanee was his senior examining monk (Kamavacacariya) at the ordination, and Venerable Phravicheankawee was his junior examining monk (Anusavanacariya). He received the monastic title "Dhammajayo", which means "The victor through Dhamma".
Later on, Luangpor Dhammajayo reflected his thoughts on ordination that: "Ordaining as a Buddhist monk is not an easy task, just simply donning a saffron robe is not enough. One must train oneself to take 227 precepts as well as the daily routine of a monk's life, in accordance with monastic disciplines. If one wishes to attain full fruition from the merit accrued from ordaining one must be able to be a refuge for Buddhism, not just taking refuge in Buddhism".
Such solid principles are not so easily come by, one must study and train for oneself to realize the significance of the Lord Buddha's teachings. Based on the aforementioned quotation, if one truly grasps the concept of Luangpor Dhammajayo's words one will have the willpower to dedicate one's life to Buddhism. His sole purpose in becoming a monk was to spread teaching of Lord Buddha all over the world. His ordination was a great example that allowed many followers to come and ordain as he did and this tradition still continues to the present day.

Transforming the Paddy Field into a Sacred Land
In his new life as a monk, Luangpor Dhammajayo was very disciplined in the monastic codes of conduct and studied very hard in the Lord Buddha's Teachings. During all of this, he also gave sermons to laypeople at 'Ban Dhammaprasit' (Meditation Centre in Wat Paknam) instead of Khun Yay on a regular basis. Until 'Ban Dhammaprasit' became so overcrowded that people had to sit in the street to be able to listen to his sermons, it was now time for the community to relocate to a bigger area. It was up to Luangpor Dhammajayo's team which consisted of special young men and women who had a comprehensive knowledge of the world and the perseverance to complete any tasks given.
On Magha Puja Day the 23rd February 1970 (2513 B.E.) was the ground breaking day in the construction of Wat Phra Dhammakaya. The construction budget was only 3,200 baht along with 80 acres of land which was donated by Khun Ying Prayad Phaetayapongsa-Visudhadhibodi. The team helped each other to build the temple giving all their effort, working hard to their utmost capability, willing to devote their life for the benefit of Buddhism. They even economized their daily expenses by consuming simple food, only what was necessary for energy and not for pleasure. Nevertheless, their hearts were still fulfilled with encouragement that they would achieve the goal despite not being able to see any solutions at that time. One of the main problems throughout the construction was raising the necessary funds.
In reference to the construction of Wat Phra Dhammakaya, Luangpor Dhammajayo stated, "With all the necessities that have been donated to the temple, laypeople have paid homage to the Triple Gems and then made a resolution prayer powered by the merit of having made these donations, therefore we must make full use of all necessities that have been given". For this reason, all the construction of Wat Phra Dhammakaya has been done to withstand the test of time.
Its simplicity in design was to ensure low-cost maintenance and yet is still able to keep its refined elegance. These buildings are symbols of Buddhism for people to come and pay homage to. The chapel is an example of this simple economical elegance as well as being one of the most used buildings at Wat Phra Dhammakaya.
For instance, the concrete that was used in the construction of the chapel was not any ordinary concrete. The best sand had to be selected from the sand dunes on the coastline and transported up the Chao Phraya River via barges. The concrete itself also had to be of the best quality. Once the mix was available, it then had to undergo rigorous testing to ensure long-lasting quality and only when the specialist team had given its approval would the construction continue. Even with the outer wall of the chapel, the gravel that was used had to be selected by hand. It had to be the whitest and purest and similar in size to a grain of rice. At that time, the supporters and locals were so impressed with the attention to detail that they chipped in and helped select the gravel with their own hands.
หลังอย่างงดงาม
Spreading Peace with the Great Faith of Humankind
Wat Phra Dhammakaya rapidly grew, along with the hearts and minds of its supporters which had grown in great numbers throughout the years. So much that the original 80 acres were not large enough to accommodate the community and therefore its size was increased to 1000 acres for the purpose of serving as a World Meditation Centre.
The very first meditation hall, accommodating only 500 people (named 'Catummaharajika'), was filled to its capacity in only 5 years. The number of people who attended the sermon grew at a very fast pace similar to 'Ban Dhammaprasit'. People ended up sitting outside on the grass lawn in order to be able to participate in any religious ceremony led by Luangpor Dhammajayo. Even when it rained, people would sit outside to listen to him, obviously this could not go on for too long and it was decided that a new meditation hall would need to be built. Therefore, the 12,000 capacity thatch roofed Meditation Hall was built, but in only a short period of time, the same thing happened, over-filling with people. Then, it was decided that the community would need a much larger staging area for meditation and ceremonies. Therefore, the 'Dhammakaya Assembly Hall', with the help of all of its supporters, was built within an area of 500,000 square meters and able to host 300,000 people. Even to this day, the building is still being expanded further. However, it has been utilized as the main staging area for all religious ceremonies since 1996.
Having seen the number of supporters regularly increase, Luangpor Dhammajayo decided to build the next phase, which consisted of the 'Maha Dhammakaya Cetiya', (The Golden Pagoda) and The Grand Meditation Stadium both designed to last for a thousand years and have an area of 1,000,000 square meters in order to serve 1,000,000 monks and laypeople from around the world who will regularly come to practise meditation in the future.
The day 1,000,000 people from over the world come to meditate at Maha Dhammakaya Cetiya will be the day that the people of the world will stop, think and ask themselves why so many people have gathered in one place to meditate. The images that they see will embody themselves into their hearts and they will strive to find the answer for themselves.
Beside the Maha Dhammakaya Cetiya structure, in order to pay our highest gratitude to the Great Teacher, the Memorial Hall of Phramongkolthepmuni and the Memorial Hall of Khun Yay Acariya Maharattana Upasika Chandra Khonnokyoong are used as a gathering place for meditation and for all people to come and pay homage. Around the same time, Khun Yay Acariya Maharattana Upasika Chandra Khonnokyoong's dining hall was built in order to allow supporters to offer food to the community of monks.
Currently, Wat Phra Dhammakaya is a centre for Buddhists all over Thailand and it is also one of the main staging areas for major Buddhist ceremonies worldwide. Success was possible because of the great devotion and dedication of Luangpor Dhammajayo and his team.
The Utmost Gratitude towards the Teacher
Every success and achievement of the Wat Phra Dhammakaya, whether it was the completion of the temple site, creating a religious community, or the dissemination of Buddhism for the purpose of instilling peace in the minds of humankind, was possible because there was a significant and important figure behind it all. This was Khun Yay, the teacher who provided Luangpor Dhammajayo with the wisdom and illumination in Dhamma, and the support and encouragement to perform meritorious deeds until her very last breath. Khun Yay's tremendous significance is immeasurable. Therefore, it was only fitting that Luangpor Dhammajayo extolled her magnificence with this title: "Our Great Teacher Khun Yay Maharattana Upasika Chandra Khonnokyoong, the Founder of Wat Phra Dhammakaya".
Khun Yay departed from this world on Sunday the 10th of September 2000. With the utmost gratitude and respect that Luangpor Dhammajayo had for Khun Yay, he requested all the monks, novice monks, and upasaka and upasika of Wat Phra Dhammakaya, along with all devotees of Khun Yay worldwide, to join in body and mind in the most perfect and majestic crystal lighting ceremony and cremation held on 3rd February 2002. This was a gesture intended to demonstrate his immense gratitude and to declare Khun Yay's significance for the whole world to appreciate. The crystal lighting ceremony was the biggest and grandest event ever held at Wat Phra Dhammakaya with an estimated 500,000 participants. It was also the first time that over 100,000 monks and senior monks, from over 30,000 temples throughout Thailand, had ever congregated together, when they attended the cremation ceremony for Khun Yay. As a way to demonstrate their kindness, monks from many other countries travelled across many miles in order to participate in the ceremony. The congregation of this great a number of monks had never happened before in the history of Thailand.
That day is considered the most wonderful of days. It was the day that all the devotees of Khun Yay demonstrated their enormous gratitude to her, and also had the opportunity to witness the presence of over 100,000 monks. It was an auspicious occasion to have the opportunity to make offerings to a monastic order of over 100,000 monks. It was also a unique and special occasion to have had the chance to contribute to all the merits and receive blessings from over 100,000 monks, which is considered to be an auspicious sound.
Even though Khun Yay is no longer with us today, Phrarajbhavanavisudh or Luangpor Dhammajayo, continues to devote and dedicate all his time and effort into his ever increasing amount of work, and to preserve and carry on the wisdom of Dhammakaya meditation that Khun Yay received from Luang Pu Wat Paknam, and transferred to Luangpor Dhammajayo, in order to create an inner happiness that can develop to a lasting peace on earth. Everything that has been done, and everything that Luangpor Dhammajayo proceeded forward with, derived from one primary goal: Peace on Earth.

A Life Dedicated to World Peace
Ever since Most Venerable Dhammajayo realized life's true purpose–that every human being is searching for true happiness–he, together with his team, has worked tirelessly to establish Wat Phra Dhammakaya as the center for virtuous deeds.
With utmost resolve and an unwavering mission to bring world peace through inner peace, Ven. Dhammajayo has devoted his life to the greatest good for humankind. His 50 years of hard work have benefited countless countries and organizations, regardless of nationality, religion, and race through this gentle initiative: "World Peace through Inner Peace". Furthermore, he has provided support to revive and maintain Buddhism in various countries, as well as offered aids to countries experiencing natural disasters. These efforts and results are a true testament to the people of the world that world peace can truly take place.
For this reason, on 22nd April 2016, on the occasion of Earth Day and his 72nd birthday, 97 organizations from Thailand and 40 other countries were present to offer their well wishes and bestow gratitude and support. It was an occasion to honor a monk who possesses the determination and ability to achieve what he aspires. Many honorary degrees, awards, and certificates were presented as a demonstration of their enduring support.
Honorable guests from multiple countries, including Buddhist monks, representatives from governments and international organizations, and press from 40 countries participated in the award presentation ceremony. Among the honored guests are individuals and organizations that are internationally recognized, such as the Sangha Supreme Council of Thailand; The Council of Thai Bhikkhus; members of various governments, parliaments, ministries, departments, associations, clubs, press and mass communication foundations; education institutions, meditation centers; etc. There were also representatives from a Christian church in attendance to honor Most Ven. Dhammajayo.
It can be seen that an individual with an enormous heart, dedication, and unwavering determination to do good for others will never be hindered. And nothing will discourage or make him abandon his goals. His lifetime of efforts and diligence were never done for recognition or accolades, but these acknowledgements are offered as a show of support for his dedication.
His one unwavering goal is to let all of humankind discover true happiness for themselves with "World Peace through Inner Peace".  World peace starts with a still mind that is filled with awareness and wisdom. Immeasurable happiness will surge inside, causing this inner peace and happiness to expand to one's family, communities, society, nation and the entire world.